DATES FOR 2023 COMPETITIONS
South Heat : Monday 31st July, 2023 (Wk 3 Term 3)
Central Heat : Tuesday, 1st August, 2023 (Wk 3 Term 3)
North Heat : Wednesday, 2nd August, 2023 (Wk 3 Term 3)
Grand Final : Wednesday, 9th August, 2023 (Wk 4 Term 3)
Click here to register for 2023!
Please get in contact with [email protected] for any enquiries as to the regions in which heats are held.
These are subject to change dependent on registrations3
Important Competition Information – Please read before registration!
Teams: We guarantee to accept 2 teams per school, however schools can register for up to 4 teams if space allows.  Once all registered schools are allocated their 2 teams each, the extra teams are then offered on a first in best dressed basis.  Therefore, if you want more than two teams, early registration is recommended.  Team numbers are not confirmed until after registration has closed at the end of week 7, term 2 (Friday 9th June 2023).
Heats/Venues: Where possible, first preferences are given, but cannot be guaranteed.  Placement in heats is dependent on registration numbers and proximity to the hosting venues. Please always check alternative dates of heats – just in case!  Please also consider being a host school, as we would love to go to as many different schools as possible. (If there is a date you definitely can't attend, please feel free to add this information in the 'comments' section.)
Registration Fee: There is a nominal registration fee of $50 per school, regardless of the number of teams entered in the event.  An invoice for this fee will be issued once registration has been recorded and is payable a minimum of 4 weeks prior to competing.  This fee is non-refundable.
Confirmation: On receipt of your registration, you will receive a short "acknowledgement of registration" email within 48 hours.  Official confirmation of team numbers allocated, heat, date, venue, etc will be emailed to you following close of registrations.  You can expect this email by the end of week 8, term 2.  If you haven't received either of these emails by the above deadlines, please get in touch with [email protected] immediately, or phone 0409 082 291
Event History
This is a competition that has been running in Western Australian secondary schools since 2007. It grew out of the success of the primary competitions. A secondary event was not held in 2008, however since 2009 it has become an annual event.
Named after its creator, the Frank Drysdale Secondary Numero Challenge was a one off event each year and has remained relatively small, although supported very loyally by a number of schools. As more interest has been shown in secondary schools, 2019 saw a change, with 2 heats being held, leading to a final the following week. This process was repeated in 2020, but due to an overwhelming increase in secondary schools playing Numero, the event increased to 3 heats in 2021, which continued in 2022.
Previous Winners
Including our current champions, previous winners included Carey Baptist College (eight victories in total), St Stephen's School Carramar (three victories), Mercy College (two victories), Melville Senior High School (one victory) and Aranmore Catholic College (one victory).
Campion Education
In 2022 Campion Education took over the sponsorship and have committed to this event moving forward. It was great to have them on board this year and we look forward to many more in the future.
Campion is a proud Australian family business and the new major distributor of Numero.
Edwina Forward Engraving
Like the primary competition, Edwina Forward Engraving (EFE) has supported this event since its inception, providing all our trophies. EFE have always been a small family business, and despite being recently sold, it has maintained that status (albeit with a new family). Their support of Numero® remains, and we truly appreciate our continuing association.
Frank Drysdale Secondary Interschool Numero® Challenge 2022
The 15th year of the Frank Drysdale Secondary Interschool Numero® Challenge was competed by 18 schools, a bit more difficult this year with COVID hitting our student population! This year the schools represented were (in alphabetical order) Aranmore Catholic College, Atlantis Beach Baptist College, Carey Baptist College, Carine Senior High School, Duncraig Senior High School, Ellenbrook Secondary College, Guildford Grammar School, Kelmscott Senior High School, Melville Senior High School, Mercy College, Ocean Reef Senior High School, Perth Modern School, St Hilda's Anglican School for Girls, St Stephen's School Carramar, St Stephen's School Duncraig, Swan Valley Anglican Community School, Ursula Frayne Catholic College and Woodvale Secondary College.
Official Championship Photo 2022
Left to right: Mrs Julie Richards, Director, Independent Education & Training (IET);  Carey Baptist College Conquerors; Mr Mike Ellis, State Manager (WA), Campion Education.
Champions 2022
(1st, 2nd and 3rd respectively)
Winners: Carey Baptist College (Conquerors)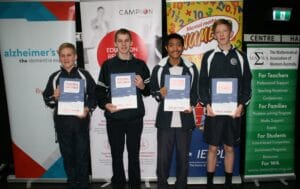 2nd Place: Duncraig Senior High School (Dumber)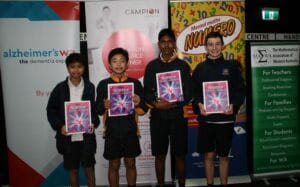 3rd Place: Perth Modern School (Modulators)